Custom Search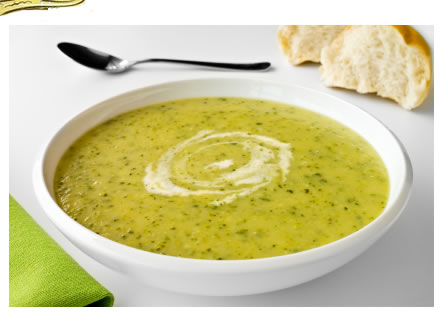 Zucchini & Watercress Soup
2 tablespoons unsalted butter
1/2 cup chopped yellow onion
1 teaspoon minced garlic
1 1/4 pounds zucchini, trimmed and chopped
1/2 teaspoon salt
1/4 teaspoon ground white pepper
3 cups chicken stock
1 sprig thyme
1 cup packed watercress leaves
1 tablespoon minced parsley leaves
1 cup heavy cream
1/4 cup creme fraiche or sour cream
Watercress sprigs, tough stems removed, garnish
Chopped chives, garnish

In a saucepan, melt the butter over medium-high heat. Add the onions and cook, stirring, for 3 minutes. Add the garlic and cook for 15 seconds. Add the zucchini, salt, and pepper, and cook until tender. Add the stock and thyme and bring to a boil. Reduce the heat and simmer, stirring occasionally, for 20 minutes. Add the watercress and let wilt, about 5 minutes. Remove from the heat and discard the thyme sprig. With a hand-held immersion blender or in batches in a food processor, purée the soup. Return to the heat and stir in the cream. Heat gently and cook for 5 minutes. Adjust the seasoning, to taste. Let cool and refrigerate until well chilled, at least 4 to 6 hours. To serve, pour into soup bowls or decorative cups. Swirl creme fraiche into each serving and garnish with watercress sprigs and chives.