Custom Search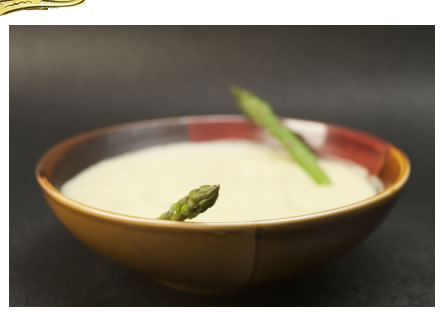 Creamy Asparagus Soup
1 1/2 lb asparagus woody ends
4 cups chicken stock
1 sm onion, peeled and quartered
1 lb asparagus spears without woody ends -- cut into 1" pieces
2 leeks, white part only, chopped
2 tbsp butter
Juice of 1/2 lemon
2 tbsp minced summer savory
1 cup cultured buttermilk
1/2 tsp ground white pepper
salt to taste

Put woody ends and onion quarters in a soup pot with chicken stock and bring to a vigorous simmer. Cook for one hour. Discard solids. Melt butter over medium heat, add leeks, and sauté until translucent. Return soup base to stove over medium heat, add leeks, and bring to simmer. Add remaining asparagus and cook until just done -- about 5 minutes. Remove from heat and add savory, pepper, and salt. Allow to cool. Puree soup in a blender, food processor or with an immersion blender. Add buttermilk, taste, and adjust seasonings.
Refrigerate for about four hours before serving. Serves six.