Custom Search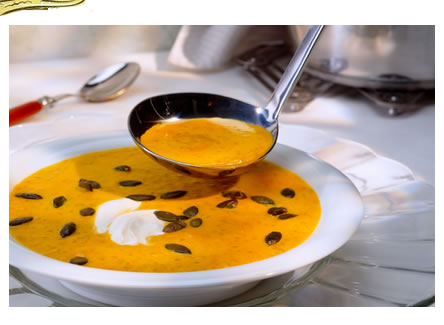 Chilled Pumpkin Soup
Soup:

3 cups coconut water
3.5 ounces coconut meat
10.5 ounces sugar pie pumpkin, seeded and cubed
1 1/2 teaspoons ground cumin
1 1/2 teaspoons ground coriander
3/4 teaspoon salt
3 black peppercorns, plus additional freshly ground pepper, to taste
Pinch of chopped garlic
3/4 teaspoon red curry paste, or more to taste
2 1/2 tablespoons olive oil
1/3 cup almond milk

Garnish:

toasted pumpkin seeds
1/4 cup coconut cream
1/2 cup chopped fresh cilantro leaves

Blend all soup ingredients together in a high-speed blender, in batches if needed. Blend until the pumpkin is completely pureed and the soup has a silky texture. To serve, pour soup into chilled soup bowls. Place 2 teaspoons of toasted pumpkin seeds in the middle of each bowl. Decorate each soup dish with coconut cream and cilantro.