Custom Search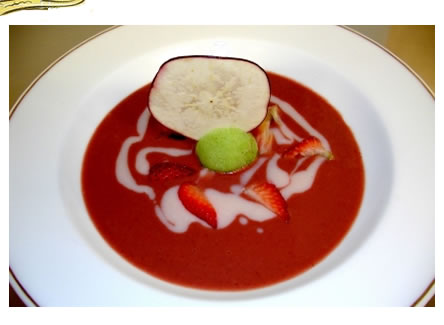 Chilled Strawberry and Peach Soup
4 large ripe peaches
3 large fresh sprigs rosemary
Juice of 1 lemon
1/2 cup granulated sugar
1/2 teaspoon cinnamon
1/2 pint strawberries, hulled
red food coloring

Peel four peaches, cut into chunks and place in saucepan. Tie rosemary in cheesecloth; add to peaches with lemon juice, sugar, cinnamon and 3 cups water; bring to boil. Reduce heat to medium low; simmer until peaches are tender, about 20 minutes. Discard rosemary. Puree strawberries in food processor with a few drops of red food coloring until liquid. Pass through a fine strainer twice; discard pulp and seeds. Set aside. Strain peaches, reserve liquid and purée pulp until smooth. Add half the liquid to peach purée; process. Transfer peach purée to a large bowl. Stir in remaining liquid and place in an ice water bath, stirring occasionally, until cold, about 20 minutes. Remove from ice water; whisk in strawberry purée. Garnish with strawberries.