Custom Search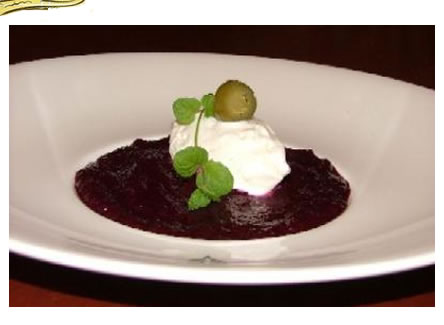 Cold Beet Soup with Jalapeno Ice Cream
Soup

2 large fresh beets, cleaned
1 tbsp olive oil
salt/pepper to taste
2 cups beef broth

Ice Cream

4 Jalapeno Peppers, cut length wise
1 tbsp butter
1 liter of Heavy cream

Preheat the oven to 350F, place all ingredients in aluminum foil and bake for 1 hour. Allow to cool in the refrigerator. Peel the skin with the help of a paper towel, cut the beets in small cubes and chop in the food processor. Add the beef stock to a heavy sauce consistency. Add salt and pepper to taste.

For the Ice Cream, n a deep 2 qt. pan, medium heat, blanch the pepper in the butter until aroma is present. Add the heavy cream and using low heat and occasional stirring, allow the mixture to come to a boil. Place in the refrigerator and allow cooling over night. Place the mixture in an ice cream machine and following the manufacturer's recommendations, until well aired and fluffy. Place in the freezer until ready to serve.

In a soup dish place a shallow amount of the beet soup. In the center, add a scoop of the jalapeno ice cream. Garnish with jalapeno slices.