Custom Search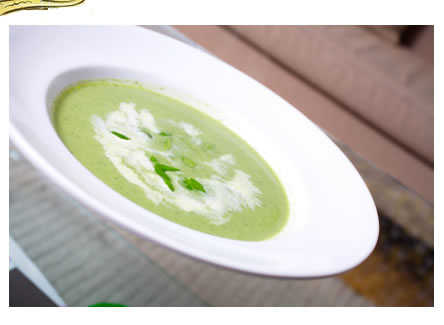 Cold Avocado Soup with Jalapeno Cream
Soup:

3 ripe California avocados (each about 1/2 pound)
2 tablespoons fresh lemon or lime juice, or to taste
1 1/2 cups low salt chicken broth
1 1/2 cups buttermilk
2 to 3 cups ice water
1 teaspoon ground cumin, or to taste
Tabasco to taste

Cream:

1/4 cup sour cream
1/4 cup plain yogurt
2 garlic cloves, chopped
1 fresh jalapeno, seeded and chopped, or to taste
2 cups chopped fresh coriander, washed well and spun dry

Halve, pit, and peel avocados and in a blender or food processor blend with lemon or lime juice, broth, buttermilk, 2 cups ice water, cumin, Tabasco until smooth, salt and pepper to taste. Transfer soup to a large bowl. Thin with remaining ice water to desired consistency and chill, covered, until very cold, at least 2 hours and up to 4 (soup will discolor if kept longer.)

For the Jalapeno Cream, in a blender or small food processor blend together all ingredients with salt and pepper to taste until very smooth. Cream may be made 6 hours ahead and chilled. Serve soup with Jalapeno Cream.