Custom Search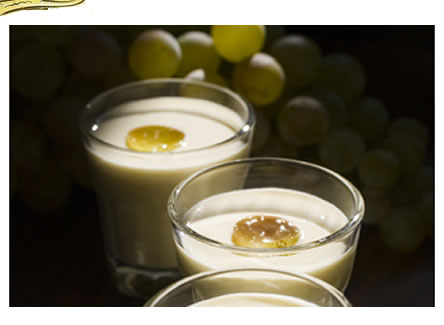 Grape Gazpacho
1/2 cup lightly toasted almonds
2 tablespoons toasted pine nuts
2 cloves garlic, smashed
2 1/2 cups white grapes
1 cup white grape juice
1/2 cup water
2 slices country white bread, crusts removed and cubed
1 cup heavy cream, whipped to soft peaks
2 to 3 tablespoons walnut oil
Chopped chives, for garnish
Toasted slivered almonds, for garnish, optional
Champagne grapes, optional

Place almonds, pine nuts, garlic, grapes, grape juice, water, and bread in a blender and puree until smooth. Strain the mixture into a bowl. Chill the soup for at least 30 minutes. Remove soup from refrigerator and fold the whipped heavy cream into the soup. Finish with a tablespoon of the walnut oil. Ladle into serving glasses and garnish each with chives, almonds and grapes, if desired.