Custom Search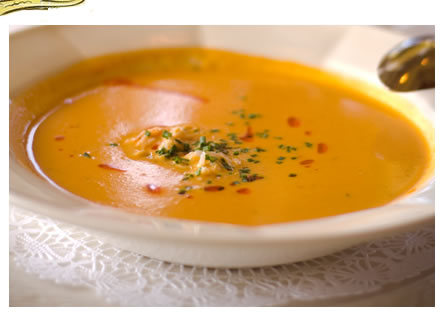 Crab Topped Roasted Pepper Soup
1 roasted yellow bell peppers
1 (14-ounce) can chicken broth
3/4 cup orange juice
1/4 cup dry sherry
2 tablespoons red wine vinegar
1 tablespoon minced garlic
salt and pepper
4 oz. jumbo lump crab meat

To roast pepper: roast over a live fire, such as a gas burner or a charcoal or gas grill. Lacking those, you can use a broiler. Turn the heat to High (or turn on the broiler). If using a broiler, cut the pepper in half and remove the stem, veins, and seeds. Place the pepper on a broiler pan. Coat the pepper lightly with oil. Broil for 5 to 7 minutes, or, using metal tongs, place the flesh of the pepper directly in the flame of the burner or as close to the heat source as possible. Rotate the pepper as the flesh closest to the heat blackens and blisters. Remove the pepper when it has blackened completely. Place it in a bowl and cover to allow it to steam. After 15 to 20 minutes, scrape off and discard the blackened skin. Remove and discard the seed pod, stem and inner ribs before using.

In a blender, combine all ingredients except salt, pepper, and crab. Pulse until smooth. Transfer soup to a medium saucepan and bring to a simmer, stirring occasionally. Allow to cool until warm. Put in refrigerator to chill. To serve, season, to taste, with salt and pepper. Sprinkle crab over top and serve. Serves 2.